New! PhotoZoom Pro 5 for Mac

High precision zoom without quality loss

Resize photos with professional image quality
Edit size, sharpness, contrast and more
Advanced settings: film grain, artifact
Option of processing images in batches
Various resizing methods tailored to your requirements

| | | |
| --- | --- | --- |
| Regular Price: | | $199.99 |
| Savings: | | $100 |
| Your Price: | | $99.99 |

90-Day Money Back Guarantee


| | | |
| --- | --- | --- |
| Without PhotoZoom Pro for Mac | | With PhotoZoom Pro for Mac |

Discover PhotoZoom Pro for Mac - live in Action


Zoom in and highlight any area of your photographs!
Enlarge extracts from your photos with no loss of quality!
Enlarge entire photos up to 1000%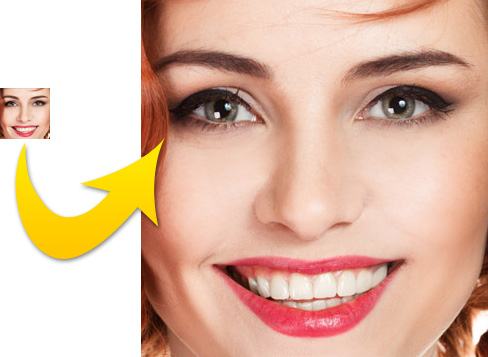 Easy to use!

Enlarge the smallest details from your favorite photos


Automate the optimization of large volumes of images
| | |
| --- | --- |
| | Optimize sharpness, contrast, granularity. Not only is this software a tool to produce high-quality enlargements, but it also offers a solution for enhancing images effectively. |
Enlarge your photos without compromising on quality
Images from a 10 megapixel camera can be printed in A4 size with an acceptable level of quality. PhotoZoom Pro 5 lets you print your holiday photos in poster size with optimum quality.
For professional use
PhotoZoom Pro 5 meets all professional requirements when it comes to image support. It fully supports color spaces such as RVB, CYMK, grayscale and Lab, in addition to metadata (EXIF, IPTC, XMP) and ICC profiles. PhotoZoom Pro 5 also supports layers, 16 bits/channel images (including RAW), 32 bits/channel images (HDR) and a very wide range of image formats.
Enlarge photos from your Mac, mobile, camera, etc.
Simply transfer your photos to your Mac and zoom away!

3 Simple Steps!
PhotoZoom Pro for Mac has been designed to be user-friendly and even includes a helpful wizard.
Upload an image
Select the subject of your photograph
Select the zoom setting: and that's it!
Save $100 Instantly - Just $99.99
90-Day Money Back Guarantee