Support | Resource Center | PhotoImpact Pro
Creating a Banner Advertisement (Part 1 - Part 2 - Part 3)
An example of creating images in PhotoImpact Pro
The images in the Add Text tutorial were created with PhotoImpact Pro. This tutorial will show you how the six images were created, and how PhotoImpact Pro's Light effect was applied to enhance the image.
1. In PhotoImpact Pro, open a new file and set the canvas size to 480x60 pixels - same size as the animation project's canvas size. Five photos of food of the same size (about 100x80 pixels ) need to be placed in the workspace.
1st photo
2nd photo
3rd photo
4th photo
5th photo
With the Selection Tool on the Tool Panel selected, set the Soft edge (on the Attribute Toolbar) to 40, set Fixed size to 100x80, then select an area that you need from an image and drag it onto the workspace. Do this until you get all five images. Then right-click and select Merge All. (You have to merge them together before you may apply the Light effect to it.)
2. Then, apply the Light effect. To apply this effect, select Effect>Magic and select Light. In the dialog box that opens, click Options for a customized effect.
3.

The spotlight needs to go from left to right. Position the light by dragging the red control point to the first photo on the left. Next, adjust the

Skew

,

Spread

,

Distance

, and

Elevation

to make the light beam seem like it's coming from a certain angle by dragging the control points at the bottom of the dialog box.
4. Now save the image. Select File>Save As. This will be your first image file.
5. To apply the Light effect to the second photo, press Ctrl-Z to undo the effect on the first photo. Then again, select Effect>Magic, select Light, and click Options. Now adjust the red control point to the second image and click OK. Select File>Save As and save the image as another file. This will be your second image file.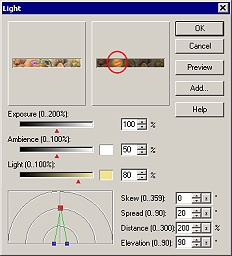 6. Repeat the process in step 5 to move on and apply the Light effect to the next photo. Each time you save the image, save it as a different file.
7. Keep doing the above process until you get the fifth photo lit. By now, you should have five different image files, with each file having the spotlight on each food photo.
8. For the sixth image, do not apply the Light effect. What you can do is, on the fifth image file, press Ctrl-Z to undo the effect and save it as your sixth image file.

Back to PhotoImpact Pro Tutorials